The exhibition has been divided into several thematic panels – on eighteen panels visitors will be able to view large-format photographs relating to important aspects of daily routines and patriotic manifestations of Poles in the Free City of Gdańsk. The narrative focuses on the Polish considerable input in the establishment of WMG's political and economic structures. Polish cultural, sports and religious milieu, based on intrinsic patriotic values, have been addressed, too. Separate, subsequent panels present examples of anti-Polish acts experienced by the Poles on the part of the German inhabitants of WMG during the whole interwar period. The exhibition's epilogue highlights the struggle and suffering of the Poles in Gdansk following the German aggression against Poland on September 1, 1939.
Among the many narrative threads of the exhibition, political activity of Polish Members of the Gdańsk Parliament is an important aspect. Their presence in the Free City's Volkstag, secured by WMG's status, proved their equal rights as members of Gdansk administrative structures. Polish MPs combined their parliament work with patriotic acts. Those were supported by the Polish clergy: Father Franciszek Rogaczewski, Father Bronisław Komorowski, and Father Marian Górecki. The German authorities, however, did all in their power to obstruct the development of the Polish community. Polish citizens of Gdańsk were repeatedly subjected to physical abuse, robbery, mutilation, and experienced frequent acts of vandalism to their property. Some were even murdered.
The exhibition's module design, consisting of six large-format display cubes, mirrors the shape of Museum of the Second World War's edifice. Owing to exhibition's central location within the square in front of the Museum and with dedicated night lighting the exhibition is accessible to the public around the clock until March 2021. The unique illustrative content comes from the collections of many archival, church, and private institutions. The exhibition has been designed in two languages – Polish and English.
Exhibition scenario by employees of the Museum WWII in Gdańsk: Wojciech Grott, Marcin Kłodziński PhD, Wojciech Samól, and Marek Zambrzycki. Exhibition held under the patronage of Professor Piotr Gliński, Deputy Prime Minister and Minister of Culture and National Heritage. Exhibition's scientific review by: Grzegorz Berendt, PhD (Deputy Director of Museum WWII in Gdańsk), Karol Polejowski, PhD DSc, and Marek Szymaniak, PhD (Scientific Department of Museum WWII in Gdansk).
An online, virtual walk around Poles in the Free City of Gdańsk exhibition makes it possible for visitors to access the exhibition at any time and from any location in the world. The virtual tour was designed by the Graphic Studio AM from Szczecin and is available in two languages – Polish and English.
We sincerely invite you to experience
this unique historical display and we hope you will enjoy
our exhibition, both an outdoor feature and a virtual tour.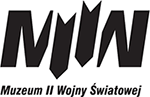 Museum of the Second World War in Gdansk's management,
exhibition authors, and scientific review team